Wednesday, May 11, 2005 Crisfield, MD to Tangier Island, VA
14.2 miles
We hung around Crisfield waiting for our toilet parts to arrive midday. As Dick explored the inner workings of the toilet, he continued to make many fascinating discoveries, which he shared with me. Dick frequently interrupted his work to bring me the encrusted, corroded, and otherwise disgustingly compromised parts his explorations unearthed, and I greeted each of his visits with the same enthusiasm one shows for a cat proudly bearing a recently killed mouse.
The parts arrived on schedule, and we left Crisfield for our two hour cruise to Tangier Island at around 2:40.
Tangier Island is our most unusual stop yet. The island has been a watermen's community since John Crockett and his sons settled here in 1686, and the descendants of the families who settled the island still live here. They speak an unusual Old English dialect to each other, but modify their speech when talking to outsiders (although maybe in tourist season, the dialect is part of the show).
A channel lined with fish houses on stilts runs through the island. Meticulously maintained fishing boats with piles of crab traps or bushel baskets of crabs run up and down the channel from 4 a.m. until well after dark.
Right now, male crabs, called jimmies, bring $100/bushel, and females (sooks) $50. That is because at this time of year the males are used to lure females who are about to shed their shells into the traps -- crabs mate when the female sheds her shell. The lured females are placed in tanks, watched 24 hours a day, and plucked from the tanks as soon as they shed their shells, destined to be eaten as soft-shelled crabs.
Milton Parks
We stayed at Parks Marina, the only marina on the island, owned by 74-year-old Milton Parks, a descendent of one of the original island families. He had just gotten in on his crab boat (after putting in a 12-hour-day), and hopped on his motor scooter to help us tie up. He is a colorful character, fond of flirting and of quoting Alan King, whom he has seen live. After he finished getting us situated and oriented to the island, he returned to cleaning his boat.
The roads through town are narrow with a posted speed limit of 15 mph, and there are very few cars or trucks on the island. Most people use golf carts or scooters when they need motorized transportation.
The streeets are lined with little houses on small lots, many with family graves in the yard, and most surrounded by chain link fences. The same names show up over and over again on the grave markers -- Crockett, Parks, and Pruitt. Milton Parks claims that there are now more Parkses on the island than Crocketts -- his family has had more boys in recent generations.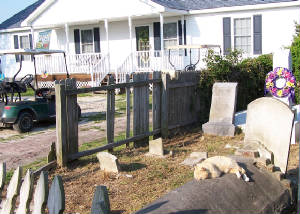 A front yard grave yard
We rode our bikes to a long white sand beach, then tried to identify shore birds wading in mud puddles near the island's air strip, where it costs $5 to land and $5 to stay overnight. (It is cheaper to come here by plane than by boat.)
Back on the boat, we enjoyed a tranquil sunset and a quiet evening.
Thursday, May 12 Tangier Island, VA to Lottsburg, VA
32 .5 miles
Crockett's Restaurant on Tangier Island is famous for hearty meals served family style. In season, it serves over 500 for lunch. We decided to wander over for breakfast. When we got there the dining room was empty, but Dick peeked into the kitchen and asked if they were serving breakfast. They weren't planning on anyone showing up, but were happy to serve us, if we would be a little patient, because they hadn't prepared anything in advance.
We sat down, and the parade of food began shortly. Coffee, a pitcher of orange juice with big glasses of ice to pour it over, a plate with about a pound of cheese wedges, a platter with a dozen strips of bacon and about as many slices of fried ham, around a dozen scrambled eggs, fried potatoes, toast slices fried in butter on the grill, a bowl of jelly and lots of butter. It was far more than we could eat -- a table of six would find it generous. Clearly, there would be no need for lunch.
And a good thing it was that we weren't planning on lunch, because our passage across the Chesapeake to the mouth of the Potomac was so rough that I couldn't have put together a sandwich out there, even if we were starving, which, of course, under those weather conditions, would be highly unusual.
Once again, despite the rocking and rolling, neither one of us felt the least bit sick. While Dick credits his "comfort" to standing at the wheel and moving with the waves, as well as concentration on the horizon, I give the credit to MotionEaze -- a natural blend of the oils of lavender, peppermint, birch, frankincense, chamomile, myrrh and ylang-ylang, applied as a drop behind each ear prior to things getting really bad.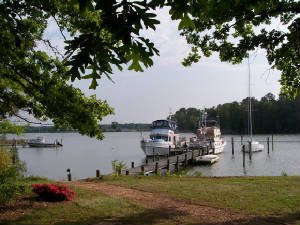 Our destination was the boat dock of Dick and Barbara Seed, owners of a Grand Banks Motor Yacht with a hull number indicating it was made just two boats before ours. We met them when we were on nearby mooring balls at Vero Beach, and they invited us to drop by when we were in their neighborhood on our way north.
The Seeds have an extraordinary passive solar home in a beautiful wooded setting on the banks of The Glebe. Their open floor plan and large windows allow them to enjoy tranquil views from every part of the house. They made us a great curry dinner, and we enjoyed a delightful evening together.