Monday, April 25, 2005 Harbour Village Marina to Beaufort, NC
68.1 miles
Our First Time Aground
Crabber at work
This was our longest day--not in mileage, but in hours--9.3 long hours, from 7 am until 4:20 pm. We were slowed by waits for two timed bridges, and by a stop for fuel. It takes a long time to pump 250 gallons of fuel.
While pumping, we did learn some interesting fuel facts. The diesel we pumped into our boat cost $1.79.9 per gallon. Next to our pump was another diesel pump selling fuel for $2.49.9. There is no difference between the fuels, except that the $1.79.9 diesel has dye added to it. The $2.49.9 fuel has road tax added to it. The dye in the fuel is like the exploding dye pellets a bank teller puts in a bank robber's satchel -- if a truck is stopped and has dye in its tank, the driver is busted for tax evasion.
Fuel is the first and only item we have found that is priced cheaper for marine use than land use.
We had been hearing muted explosions from nearby Camp LeJeune Marine Base for awhile, but while we were pumping our fuel we heard a loud alarm begin to bloop. Somewhat disconcerted, I asked the fuel dock attendant what the alarm meant. He casually responded that it signaled bombing to begin in 45 minutes.
"From planes?" I asked.
"No, they have holes they put the bombs in, then they put stuff on top, but they clear the boats out of the way so stuff won't hit them." He assured me we wouldn't be affected.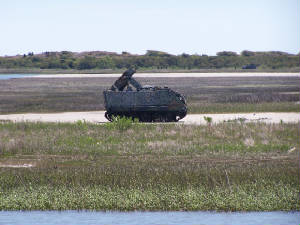 Scenic Camp LeJeune
We didn't have full faith and confidence in the fuel dock attendant, our chart showed us passing through a restricted area, and our Cruising Guides warned that target practice in these waters can sometimes hold up traffic. So, just to be sure we weren't about to become unwitting targets, we called the Coast Guard on our radio. After a long wait, while we continued to move ahead in restricted waters, the Coast Guard told us we weren't in a "hot" area.
It wasn't long before we were in hot water, though.
We came upon a dredging project in the ICW. We radioed the barge in the middle of the channel to ask how to pass, and the Captain told us to pass to port. We did as he told us, and went aground right next to his anchor cable. When Dick radioed him that we were aground, he said, "Yep, it's pretty shallow over there." So much for trusting the local knowledge of working boat Captains.
The dredge Captain offered to pull up his anchor to give us room to get off, and when the anchor came up it was the size of a Volkswagen. Fortunately, the wind and current worked in our favor, and Dick was able to power us off with a bit of fancy maneuvering.
Beaufort Waterfront Home
The thrills weren't over yet. The wind and waters were whipping up into a frenzy, and we had a fairly open water sound to pass through on our way to Beaufort. We had about an hour of white cap choppy water in Bogue Sound, and then another half hour of rough water and strong winds in the Beaufort Inlet.
Relief was our overwhelming feeling when we finally tied up in our slip at the Beaufort City Docks.
We had a fast recovery. We noticed Southern Comfort tied up a couple docks down, and wandered over to see if Stan and Nancy were aboard. Stan was charting his course to leave the next day, and we decided to catch up over dinner later.
We had a very fine dinner at the Beaufort Grocery Company, beginning with Saganaki, a Greek dish Stan and Nancy recommended. It was delivered with a flourish -- doused in brandy, lit and raised high aloft as the flames flared and we all shouted "Hoopah." All eyes in the restaurant were on us.
The rest of the meal lived up to that introduction. The food, the service and the company were all outstanding. It was a bit pricey, but we figured we earned it.
Tuesday, April 26-Wednesday, April 27, 2005 Beaufort, NC
Reminder: Back in Beaufort, South Carolina, we explained the critical pronunciation differences between the Beauforts North and South. This is the Beaufort with the Beau pronounced like the bow in bow tie.
The City Docks are right on the main street of town--Front Street. Front Street is lined with gracious nineteenth century homes and several blocks of interesting shops, galleries and restaurants.
The marina welcomed us with wooden nickels good for free beers at the dockside bar, and a bag full of brochures and coupons from local merchants. Over the next couple days we used our discounts liberally--$2 off at the General Store laundromat, 10% off our purchase of Michener's Chesapeake at the Rocking Chair Bookstore, and a whopping $100 savings at Scuttlebutt's marine store where we bought nautical charts at 15% off a good discount price. And, of course we drank those free beers.
Since our aircard doesn't seem to like North Carolina, and the Marina's wi-fi set-up didn't have a strong enough signal for us, we had an extra reason to hang out in the town coffee shops.
On Tuesday we loaded up our computers and strolled to the quiet coffee shop across Front Street from the Marina for breakfast pastries, lattes, and internet access. We found other cruisers quietly doing the same thing. We spent a couple relaxing hours catching up on our e-mail and the news.
Wednesday, we went to the other coffee shop, a couple blocks away. That shop is a local hang-out for animal lovers. It has a resident cat. We were warned he would probably walk on our keyboards, but Dick's early discipline kept him in line. The resident dog was home recuperating from an attack by a bigger dog, but other dogs came by to visit. We unwittingly set up our computers on a table that the locals usually gather around. So, we ended up beside a lively group of eight retirees squished around a table for four, updating each other on all the doings about town politically, socially, and weather-wise. It was a bit hard to concentrate on our computers in the midst of all that local color.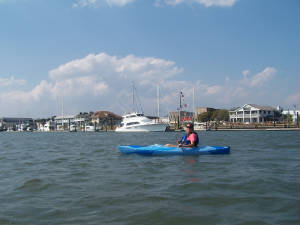 We used the marina's courtesy car, 1987 Buick station wagon with faux wood trim on the sides that had pretty much weathered away to tan plastic. It drove like a boat--you turned the wheel and had a significant delay before the car responded. But, it got us to the grocery store and the hardware store, and had plenty of room in back for all our purchases, so we had no complaints.
We purchased other important cruising staples in town--a batard of the bread we had enjoyed during our meal at the Grocery Company, and a pound of fudge from the General Store.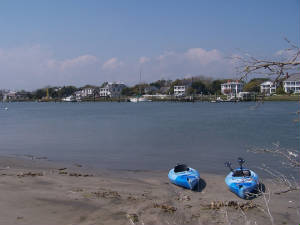 Looking at Beaufort from Carrot Island
One of our favorite activities in Beaufort was paddling our kayaks over to nearby Carrot Island, site of the Rachel Carson Wildlife Refuge. It was a bit windy for good birding, but we saw the island's wild horses grazing, looked out over the broad tidal shallows to the sea, hiked the dunes, and enjoyed the views of Beaufort's waterfront. We had an easy paddle back to Starsong as the wind and tide pushed us home.
For some historical perspective, we visited the North Carolina Maritime Museum. I was a bit disappointed they did not present much information about pirates. Pirates played a significant role in the history of this region. Blackbeard terrorized the area until the Royal Navy killed him at Okracoke Inlet in 1718. Pirates seized the town of Beaufort twice in 1747, but were driven off by farmers and the militia.
We did learn about the official state boat of North Carolina--the North Carolina Shadboat (declared by an act of the General Assembly in 1988). It was a boat that could sail well in shallow waters carrying heavy loads--ideal for conditions in this area where hundreds of shipwrecks lie in the shallow waters off the Outer Banks. The last shadboat was built in the 1930s.
We had a more interesting maritime history lesson in Beaufort's Old Burying Ground, where we took a self-guided walking tour.
There we saw the grave of the "Girl in a Barrel of Rum." In the 1700s a father took his daughter from Beaufort to London for a visit. She died on the return voyage, and, rather than burying her at sea, the father purchased a barrel of rum from the captain and preserved her body in it so she could be buried in the family plot back home in Beaufort. Today the grave is covered with toys left by visitors.
We were somewhat surprised to see that the Burying Ground was integrated, and had the grave of a Black Union Soldier. We learned that almost 200,000 Black soldiers fought for the Union, and by the end of the war almost a quarter of the Union Army were Black soldiers.
We saw a mass grave of sailors who froze to death in the the wreck of the Cassie Wright in January 1886, a tragedy that led to the establishment of the Cape Lookout Lifesaving Station one year later. A British naval officer who died in the 1700s while in the port of Beaufort was, at his dying request, buried standing up and saluting in full uniform.
At another plot where Sarah Gibb and Jacob Shepard lie side-by-side, the story is that Sarah married Jacob, and his ship went to sea, never to return. Giving up hope for her husband's return, Sarah married Nathaniel Gibbs and had a child. After several years' absence the shipwrecked Jacob Shepard returned home, and negotiated with Sarah's new husband concerning her future. They decided she woulod stay with Gibbs as long as she lived, but spend eternity beside Shepard.
We close our discussion of this seaside cemetery with the inscription from Captain John Hill's stone:
The form that fills this silent grave
Once tossed on ocean's rolling wave,
But in a port securely fast,
He's dropped his anchor here at last.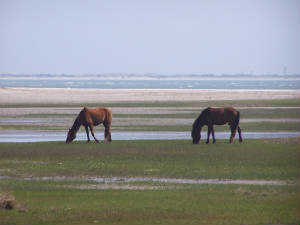 Wild horses grazing on Carrot Island