This section has two pages, plus a link to our Bike Virginia adventures on the second page. If you have already read this page (ending with Hampton and the Old Point Comfort Light), click the link below to go straight to Page 2, or click the other link to go to Bike Virginia. Another link to Page 2 can be found at the bottom of this page.
Click here to go straight to Page 2.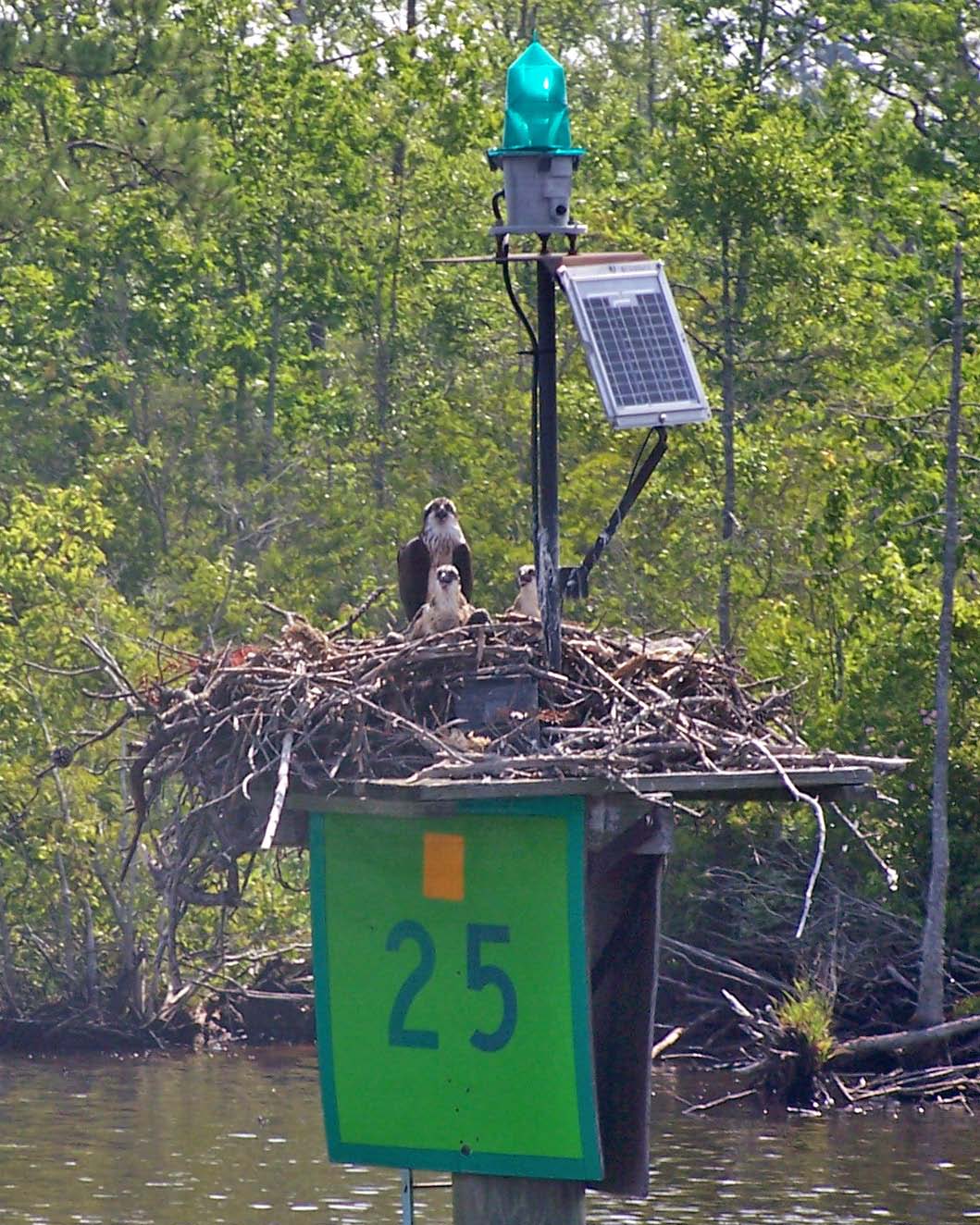 Albemarle and Chesapeake Canal Osprey Mom and Kids
Saturday, June 16 Coinjock to Great Bridge Free Dock
37 miles
Most of our cruising today was along narrow rivers and man-made cuts that passed through mostly uninhabited cypress swamps and woodlands. We heard a boater ahead of us say that he saw a black bear at the water's edge here last year, but we didn't see any bears. We did see a bald eagle flying over the river toward us just a little higher than our flybridge, and he landed majestically in a pine tree right as our boat passed it. A bald eagle sighting never fails to fill us with awe, and the sight of an eagle flying up close is beyond awesome, to sublime (a bear would just be exciting).
The landscape was beautiful and a little bit haunting, because there were so many skeletons of dead trees rising from the water near the shore (and some floating as dead heads in the water, too). Twisted trees looking like big versions of artfully trained bonsais grew from the stumps of fallen trees out in the water, or rocks on the water's edge.
With so much undeveloped area along its shores, we imagine that much of the Albemarle and Chesapeake Canal today looks the same as it did back in 1859 when it was completed. The Canal was proposed in 1728, and the survey for it was completed in 1772. The Revolutionary War interrupted plans to construct it, and the Dismal Swamp Canal was built by slave labor to provide a route between North Carolina and the Chesapeake. It wasn't until commercial vessels found the depth of the Dismal Swamp Canal limiting in the mid-1800s that plans to build the Albemarle and Chesapeake Canal were revived.
By that time, steam dredges had been developed. The canal was built in nine years, from 1850 through 1859, and the amount of cruelty and suffering that went into its construction was considerably less than that of the Dismal Swamp Canal.
We traveled the Dismal Swamp Canal two years ago, and having done them both now, we think there is more beauty in this route. The Dismal Swamp Canal runs parallel to major roadways (and has the only welcome center in the country that serves both a highway and a boatway). So, there are places along the way where we were cruising at seven miles and hour and to our port side we were being passed by semi-trucks doing seventy. That experience broke the mood (or maybe, it defined the mood of the Dismal Swamp).
The mood of the Albemarle and Chesapeake was a bit more timeless serenity (except, maybe for the boat graveyards along the way -- little bays off the main channel where locals had decided to bring their boats that were beyond repair and leave them to weather and sink whenever they were ready).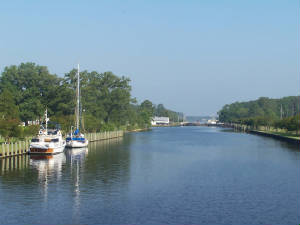 Docked with the lock ahead
We tied up at a free dock wall in Great Bridge, Virginia. The free wall is in a park that spans both sides of the Albemarle and Chesapeake Canal, and includes an unusual lock that we will pass through tomorrow. Lots of families were enjoying the park while we docked there, and many came with their crabbing equipment -- lines with chicken necks attached to lure the crabs, and long-handled nets to grab the crabs when they grabbed the bait.
We explored the town, and wandered about the park reading the many signs providing historical perspective about the Great Bridge that gave the town its name, which dates back to pre-Revolutionary times, and about the Canal. We learned that on December 9, 1775 Great Bridge was the site of the first land battle of the Revolutionary War in Virginia. The bridge was the only landward approach to Norfolk, so it was a strategic holding. About 670 British soldiers attacked 900 Patriots, and the British were defeated in about half an hour. An obelisk placed by a Virginia chapter of the Daughters of the American Revolution marks the site of the battle.
Later in the afternoon Joyce and Gordon on Jabberwocky arrived at the dock and tied up in front of us. They were in the berth next to us at Alligator River Marina, but we scarcely saw each other there, because we were all holed up in our boats hiding from the chilly winds. We decided to go to dinner together, and they regaled us with tales of their sailing adventures. Our favorite story was their October 18 passage on the Erie Canal, when a white-out snowstorm stopped them halfway between Buffalo and Rochester, and they awoke to six inches of snow blanketing their boat. They shoveled out using a dustpan.
We also learned that they lived for two years in Irondequoit, where Gayl grew up. The world grows smaller and smaller, it seems.
Sunday, June 17, 2007 Great Bridge to Hampton
26.5 miles
Our cruising day began with a trip through the Great Bridge lock, which runs hourly, coordinated with the Great Bridge Bridge, which opens hourly.
When the lock was completed in 1859, it was the largest lock chamber in the country. Today, the lock is hardly necessary for navigation purposes -- it only dropped us about eight inches when we passed through. Its primary purpose is environmental -- it acts a a "guard lock" to protect the quality of the fresh water in Currituck Sound. The water on the Currituck Sound side of the lock (where we docked) is fresh, and the water on the other side of the lock in the Elizabeth River is salt. The lock walls keep the water from mixing (except, of course, the water that is released from the lock when boats lock through).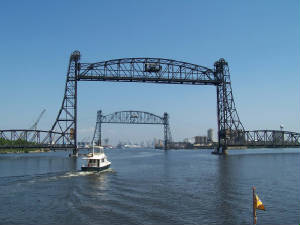 Gateways to urban cruising
Our buccolic cruising past green shores abruptly gave way to a gritty landscape of scrap yards, sand and gravel piles five stories high, and lots of silos, storage tanks and massive cranes, as we made our way up the Elizabeth River toward Portsmouth and Norfolk.
The Norfolk Naval Base is the world's largest naval base, as measured by people stationed there (90,000 uniformed personnel plus a bunch more civilians) and the number of vessels based there. First we passed the Naval Shipyard in Portsmouth, where ships under repair were docked. Then we passed the Naval Base across the river, where an impressive array of aircraft carriers, guided missile destroyers and amphibious assault ships were docked.
Security was high. The ship docking facilities were cordoned off with huge da-glo orange buoy lines, and security boats with machine guns on their bows patrolled the area. (We learned on a harbor cruise the next day that those patrol boats carry three heavily armed people each, but they are just cruising around to warn and intercept boats that venture too near. According to our guide, if a fast boat actually breaches the cordoned off area, people stationed inside with superior firepower will assure that the boat is stopped in its tracks.)
We chose to stay in Hampton, north of busy Norfolk and Portsmouth, since we walked and biked around both Portsmouth and Norfolk last time we were up this way, but we didn't have a chance to explore Hampton.
We got to the Downtown Hampton Public Piers in the early afternoon, and were on our bikes exploring the town within an hour. Our first stop was a Starbucks five miles from the boat. Dick had called ahead this morning to ask them to save us a New York Times, and he called again at 2:30 before we set off for our ride to be sure they still had it. We got our Times, and stopped a moment to read and relax with some cool beverages, before going just around the corner to Boater's World for a few supplies.
Then we turned on our GPS, and worked our way back to the boat via a circuitous route designed to take us past hidden geocaches. In searching for the caches, we found a coliseum shaped like a massive white cupcake in a fluted paper liner, a lovely little park, a beautifully maintained historic neighborhood of architectually intriguing homes, and the oldest continuous Protestant Church in North America. St. John's Episcopal Church parish was founded in 1610, and the church standing now is the fourth one built by the congregation, completed in 1728. It is built in the shape of a Latin Cross, and is open during most days, but we got there too late to see the inside this day. We put it on our list of things to do before we leave. The church's other claim to fame is that it has communion silver hallmarked "1618," reputed to be the most precious relic in any Anglican Church in America. We are pretty sure that it won't be just sitting out on display when we come back to visit the church.
The church is surrounded by a cemetery with graves dating back to the 1700s, and some as recent as this year. Some of the statuary is extraordinary, with elaborate tree trunks being a particularly popular motif. We saw one very ornate marker that rose over two stories high and appeared to be stone, but when we tapped on it, it rang as hollow metal -- Dick says aluminum.
Since Hopewell -- where our Bike Virginia ride begins -- is just a day's cruise up the James River, and since we don't have to be there until Thursday, and since if we stay here two days we get the third day for half price, we will have plenty of time to take in Hampton's scenic and historic attractions. This will be a very full page.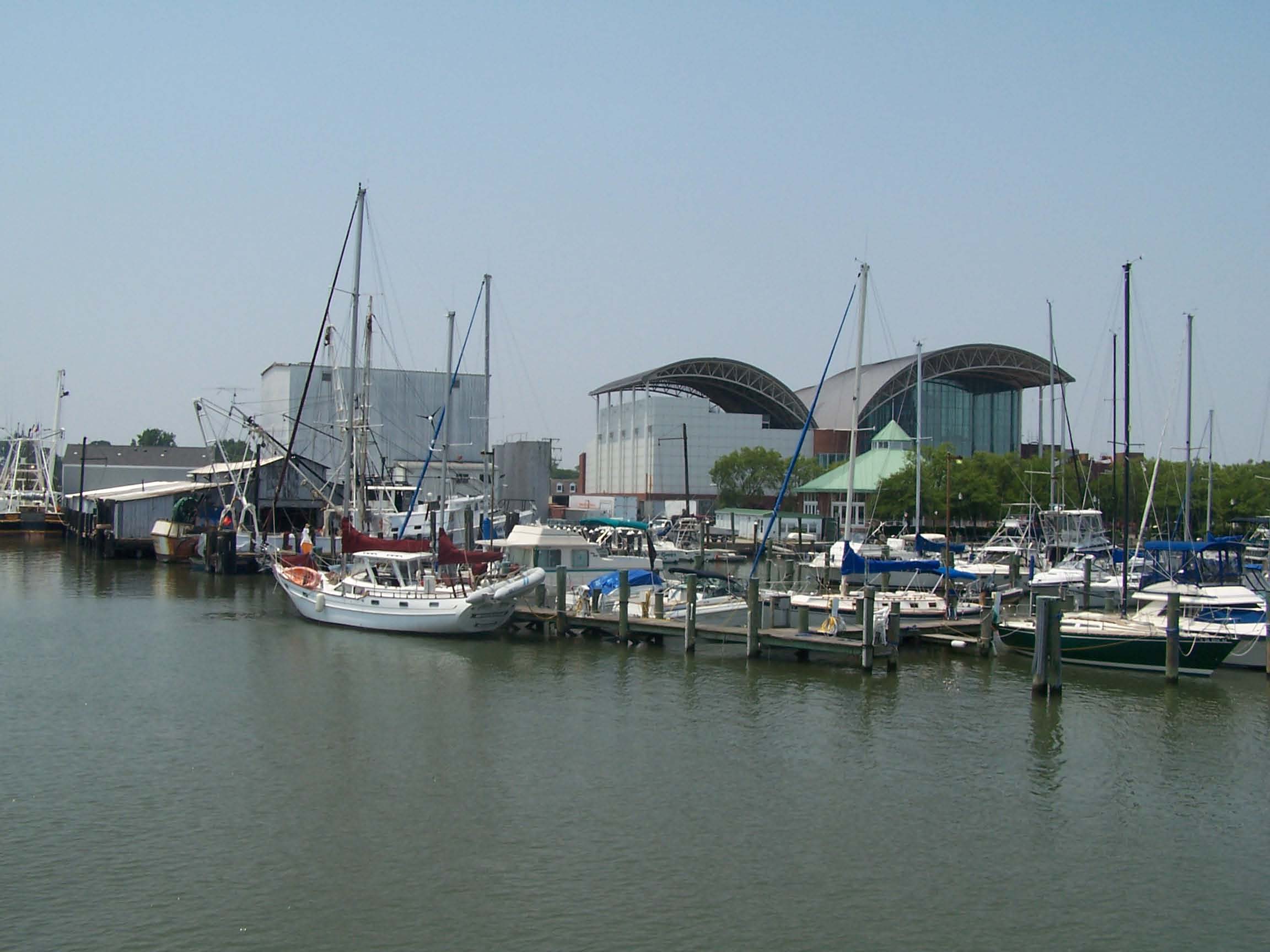 Hampton view from the public pier
June 18-19 Two More Days in Hampton
Despite all its retaurants and bars, an air and space museum with wings that spread high over the town, and hundreds of boats docked along the edges of Hampton Road (a road in marina parlance is a large deepwater anchorage), Hampton is disconcertingly unpopulated. We walked into the big hotel that looms over our boat dock, and found no one at the front desk. Its waterfront restaurant doesn't serve dinner. We spent nearly two hours in the Visitor Center/History Museum and didn't run into another visitor the whole time. No tourists are wandering the streets of the historic district carrying bags of souvenirs or licking ice cream cones. Where is everyone?
Aside from that eerie lack of other people out and about, Hampton is an interesting town.
We took a three hour harbor tour from 10 until 1 on Monday. We bought our tickets at the North American headquarters of the Cousteau Society -- the only Cousteau Society outpost in North America. It had on display a bunch of Cousteau paraphernalia, including a mechanical shark that was bitten to shreds by a real shark, a range rover that was gored by a rhinoceros in Africa, several pressurized observation vessels, wet suits and such.
We learned a lot on the harbor tour -- it was three hours, after all, including a stop at Fort Wool for a 45 minute ranger-led walking tour. Here is a sampling of things we learned that were particularly interesting to us:
Hampton is the oldest continuous English speaking town in North America (it beats Jamestown by two days, because the settlers abandoned Jamestown, so it wasn't continuous). That English speaking modifier is important, too, because, as we recall from our visit to St. Augustine, that city brags about being settled before Jamestown, but although people lived there continuously, the place kept changing hands between French Huguenots, Spaniards, French and English rule. But I digress.

Blackbeard operated out of Okracoke and terrorized the waters around here, disrupting trade from 1716-1718, until the governor of Virginia sent 64 marines to put an end to him. They accomplished their task, although to Blackbeard's credit, it took five gunshot wounds and twenty stab wounds to do him in. The marines beheaded Blackbeard and paraded his head back to Hampton, where they displayed it on a twenty foot pole at the head of the Hampton River as a warning to other pirates not to mess with Virginia. The spot where the head was displayed is known a Blackbeard Point to this day.
Norfolk is the home port of 105 warships, including the longest aircraft carrier in the world -- the USS Enterprise. The Enterprise is 1,101 feet long, 21 stories high, and has a draft of 38 feet below the water. She carries 85 aircraft and 6,000 crew. The kitchen serves 20.000 meals a day. I didn't realize until this tour that the planes don't just sit out on deck when they aren't being deployed. The ship has below deck storage hangars for the planes, and a big hydraulic elevator hauls them up and down as needed.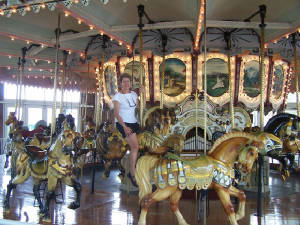 Riding the Carousel
After crab cake sandwiches at a waterfront restaurant overlooking a busy crab processing plant, we visited the Hampton History Museum, which, judging by its exhibits, has a huge collection of broken crockery dating from the 1600s to the 1900s. Although the museum's collections may not be huge or impressive, the exhibits are really well-designed and engaging, and we spent a long time browsing through. The museum is just four years old. I recognize that hardly anyone reading this is as interested in history, or in history museums, as Dick and I are, so here's the brief history of Hampton overview: It was settled in 1607 and survived hard times by "forced trade" with the local native tribe, traded food with a Dutch ship captain to obtain its first African labor in 1619, by the early 1700s had an active slave trade to support Virginia's tobacco fields, by 1775 slaves outnumbered the rest of Hampton's population, and it was all downhill from there for about 150 years, with the Revolutionary War, the exhaustion of the soil in the tobacco fields, then the burning of the town by Confederate troops to keep it from being of value to Union troops, and the loss of all that unpaid labor when slaves were freed following the war, but things eventually looked up again with Langley Air Force Base here, and the Naval shipyards nearby, not to mention all the commercial fishing and crabbing and crab processing plants. The museum's story ended with the 1950s, so we don't know how they feel about what they have become today.
By this time, we were ready for some mindless fun, so we took a ride on a lovingly restored 1920s carousel, built by the Philadelphia Toboaggan Company. A sign at the entrance claimed it is one of less than seventy antique carousels still operating in the United States.
The next day we hopped on our bikes to get a bit more training in before our Bike Virginia ride starts the end of this week. First we rode to a marina with a huge marine parts distribution center, where Dick bought a length of hose to replace our air conditioning hose which he determined is on the verge of breaking.
Then we continued on to Fort Monroe, a military post we visited two years ago when we took refuge from bad weather in a sheltered anchorage beside the base. The Fort on the base has a rich history, including serving as the prison for Confederate President Jefferson Davis. Sgt. Edgar Alan Poe was stationed there after he got kicked out of West Point.
Today the military base was front page news -- it is scheduled to be decommissioned in 2011, and, given its primo waterfront setting, developers are salivating and government officials are having a hard time balancing preservation goals with their yen to make the big bucks off this opportunity. The Development Authority's big idea presented in today's paper was to have less housing and more corporate headquarter and regional office development on the decommisioned land.
We were appalled to think of the base being overrun with new development. When we did the self-guided walking tour around Fort Monroe a couple years ago, it felt like a thoroughly charming sea side town, with the generals living in waterfront Victorian villas and colonels and majors living in substantial red brick homes with welcoming porches on tree-lined streets, and all the lesser ranks living in places that were smaller, but still felt like they belonged to a relaxed resort town, rather than a military post. We didn't just imagine who lived where -- the name and rank of the military inhabitant of each house was painted on the face of his or her top front step.
Our bike ride around the base today eased our minds. We rode for miles through undeveloped spaces and fields that were probably used for training exercises. We figured developers could find plenty of space for someone's world headquarters or corporate offices and still keep the base neighborhood and the historic fort intact. We are also sure modern beach front condos will show up in the final plan -- the base has a long white sand beach where signs strictly forbid swimming or wading, allowing "sunbathing only."
Pocahontas Baptism Window
Rounding out our day were a trip to St. John's Episcopal Church to see the inside, and a visit to the Air and Space Museum.
The church dates back to 1728, but the it is really more accurate to think of it as a late 1800s sanctuary, since all but one wall of the church were destroyed during the Civil War, and all the stained glass windows replaced clear glass used in the Colonial church. We had two favorite windows. One was titled "Baptism of Pocahontas Virginia." A portion of the gifts made for the window came from Indian students who the church recruited to attend Hampton Institute to be "educated and pacified." Our other favorite was a window with a beautiful image of a three masted ship with sails raised in Hampton Roads. The window listed the names of the church's colonial era rectors. A self-guided tour we got in the church lobby told us that the rector at the time the window was commissioned wanted to omit the name of Jeremy Taylor (1667), because he "had not the best reputation, being credited wiht a liking for things of the flesh." The compromise -- Taylor's name is included, but it is enclosed in parentheses, signaling his infamy through the generations.
Finally, our visit to the Air and Space Museum was a big disappointment. This musuem had lots of stuff -- planes and space capsules suspended from the ceiling and on the ground, lots of simulators and computer games and hands-on demonstrations of principles -- but we kept having trouble getting the exhibits to work, and when they did work, we weren't sure what principle they were demonstrating. (For example, one exhibit had a crank you turned to make two propellers turn -- one labeled "inefficient" and one "efficient." Whenever I turned the crank, the inefficient propeller beat the efficient one.) Then they had computer quizzes about stuff they didn't teach in the exhibit, which just made us feel really stupid. Who designed this place? We are sure teachers were not involved. Did they do any consumer testing? I could go on and on with the indignation, but you get the idea. It really really really bothered me to walk out of a museum feeling dumber than I felt when I walked in. This just shouldn't be.



Old Point Comfort Light
Old Point Comfort Light
Standing within the Fort Monroe military base, and erected before the fort, Old Pont Comfort Light is the oldest continuously operating lighthouse in the country. Its light has not stopped shining since it was dedicated in 1803 by Thomas Jefferson.
Most east coast lighthouses were damaged or at least temporarily extinguished during the Civil War, but the Point Comfort Light shone steadily, as Fort Monroe was controlled by Union forces throughout the war.
A mere 54 feet in height, the light's continued usefulness was threatened by the development of tall hotels and other light-emitting attractions along the Virginia shore that dwarfed its beacon. In 1954, one inventive Coast Guard keeper attached five 250 watt lightbulbs to poles extending from the light's guardrails in an attempt to create a more distinctive light pattern for sailors to look for from offshore. One lighthouse purist, expressing the thoughts of many, wrote in the lighthouse log, "It made the light look like an amusement park ride, rather than a noble light house."
The extra 250 watt bulbs have been removed, the tower is freshly painted, and the light can now be seen for 16 nautical miles.