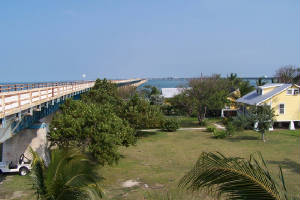 Pigeon Key
Thursday, February 22, 2007
Pigeon Key
Yesterday we spent a relaxingly mindless day at the beach, so we decided to have an educational outing to Pigeon Key today. Pigeon Key is a four and a half acre island 2.2 miles west of Knight Key, which is connected to Vaca Key, home to Marathon. Back in 1908, Pigeon Key served as a camp for 400 laborers building the seven mile long railroad bridge needed to get Flagler's railroad extended to Key West. To get to the Key, we rode our bicycles over a portion of the original Seven Mile Bridge, now paved, with the original train rails recycled as guard rails along the side of the bridge.
The bridge was busy with walkers and joggers, as well as a few other bicyclists and a half dozen people fishing over the side. About twenty fishing boats sat at anchor near the bridge. The only motorized vehicle allowed on the Pigeon Key Bridge now is a little tractor disguised as a fanciful engine pulling a tram car.
Counting the ride to the bridge and the ride over it, our trip to the Piegeon Key was just short of five miles. We joined a group who rode over on the tram for a guided tour. Our guide, Dee Pitts, lives in a little cottage on the island with her husband. They were both truck drivers, when they were on vacation and rode over the new Seven Mile bridge. She looked down on Pigeon Key, and said, "I'd like to live there some day." They moved to Marathon, and she cleaned houses while her husband worked in a boatyard as a diesel mechanic. One day she was looking in the want ads and saw an opportunity for a tour guide/caretaker on Pigeon Key, and the rest, as she says, is history. We say she found her calling.
Back in 1900, Key West was the wealthiest and most populated city in Florida, with 12,000 people. Miami was a swampy cow town of 500. Flagler positioned his railroad extension as a way to simplify commerce with Key West, offering an overland route for trade. But, some people think that he knew it wasn't a profitable proposition -- he was just up for the challenge.
Of course, the big challenge of accomplishing his vision fell on the backs of thousands of workers who worked for fifteen cents per hour, ten hours per day, braving the heat, mosquitos, malaria, and other "discomforts" of their isolated life. The workers were very loyal to Mr. Flagler, and knew that he wanted to ride his train to Key West, and when they feared his health was deteriorating and he might not achieve his goal, they voluntarily accelerated their work schedule, working 24 hours a day, seven days a week to finish ahead of schedule.
If you read the previous page, you know whether the workers succeded in their race against time, and if you didn't read it, go back now to read more about Flagler's Folly, as we learned at Crane Point, another labor camp.
Click here to go back to the previous page.
After the bridge was completed, bridge tenders and maintenance crews lived on the island. All was well for a few decades, although the railroad never was a big money-maker, but on Labor Day in 1935 a devastating hurricane with winds in excess of 200 miles per hour and 18-20 foot waves struck, destroying big swaths of the rail bed. That was it for the railroad. The state of Florida bought the railroad right of way, including the Seven Mile Bridge, for a bargain basement price of less than $700,000, and they turned it into a road. A new Seven Mile Bridge, completed in 1982, runs parallel to the old one now, bypassing Pigeon Key. Chunks of the old bridge have been knocked down to provide ship channels, but most of it still stands, many hurricanes later, a testament to the engineering genius of the team that supported Mr. Flagler in achieving his dream.
A small museum on the island exhibits artifacts from the heyday of Pigeon Key. One of my favorite displays was of china from Flagler's Peninsular and Occidental steamers, found by divers near the Knight Key dock. The story is that when things got really busy, the kitchen help would throw the china overboard rather than wash it.
After our tour and thorough review of materials in the Museum, we retired to a picnic table at the water's edge with our picnic, then moved to park benches where we read our books. In the spirit of our outing, I brought Last Train to Paradise: Henry Flagler and the Spectacular Rise and Fall of the Railroad that Crossed an Ocean. Dick brought a book by Jimmy Buffet -- Where is Joe Merchant? (He'd already read the Flagler book.)
As we rode back over the bridge, we had a heart-stopping experience, as three Magnificent Frigate Birds flew just 70 feet over our heads. We could see their eyes! We are used to seeing them soaring a thousand feet above. They were indeed magnificent.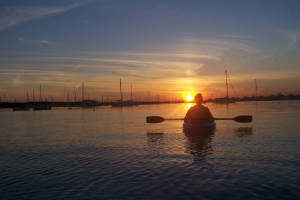 Friday, February 23, 2006
Our favorite part of today was paddling into the sunset in our kayaks. A little less than an hour before sunset, we launched our kayaks, and gingerly slid into them from our swim platform. I always am a bit concerned that I will flip the kayak while getting in, destroying the camera by dunking it in salt water, but (I am knocking wood now), I haven't flipped yet.
The water was glass calm, and we paddled out over shallow flats between mangrove islands that lie behind our boat. Pelicans were flying at our eye level, their wings just centimeters above the water's surface. Herons were fishing at the mangroves' edge. We drifted and savored the tranquillity of floating silently so near to the birds.
Then we headed into more open water to the west, to be immersed in the sunset. As the sky changed to rose and then fire, the water reflected the colors, just a little, then dramatically ablaze. In our little kayaks, we were floating in the molten sky.
Several boaters in the harbor blew their conchs to salute the departing sun, and someone in a condo blared a recording of "Taps," which included multiple repetitions. We imagine the neighbors found it annoying.
By the time we got back to Sombrero Dockside, the band had started playing, and the restaurant was hopping. So much for tranquillity -- we paddled on home to the beat of the island music floating across the water.
February 26-27
A Visit From Frank and Karen
Our friends Frank and Karen of Maine Course, who we cruised with in October and November 2005, came by car for a quick visit. The last time we saw them was last winter, when we lived aboard Starsong in Fort Myers, where they have a condo in a beautiful community called The Landings. Little did we know then that we would soon be living in a place called The Landings, too.
It was wonderful to be together again, drinking Beer Margaritas (a drink Frank taught us somewhere along the Tenn-Tom River) around our salon table and talking nautical. We were amazed to learn that they have just traded in their Maineship 390 for a smaller, faster Maineship Pilot 34. We, too, are planning to downsize and speed up, and had honed in on the Pilot 34 as our top wish boat. Once again, we feel like kindred spirits.
We ate and talked and laughed into the night, and the next morning started all over again. We ate in the garden at The Stuffed Pig, then did a little sightseeing -- a stop at the old Seven Mile Bridge and a visit to Buck Woodcraft, where Dick and Frank talked shop with the owner, who gave them a demo of his massive computer controlled router. Both Dick and Frank are tool guys, and they appeared to be fantasizing about how much fun it would be to work with all the cool tools at Buck Woodcraft. Dick has been a regular customer there while we have been here, and I think he will miss the place almost as much as he'll miss our breakfasts at Stout's.
Frank and Karen were gone all too soon. After all the cruising adventures we have shared, and the many times we have broken bread together, they are special friends.
Our next-boat neighbors Peter and Mary Lee invited us to join them and another marina friend, Mary Jean, for 25 cent shrimp and chicken wings at a nearby waterfront bar called Sparky's. Natives here eat and drink cheap (and keep track of what day it is) by following the specials. We ate outside (as we do most places here), next to the dock where the charter boats fishing boats tied up. The shrimp were huge and fresh, the conversation lively, and the service impeccable. Our waiter was a recent marine biology graduate from Poughkeepsie who was working on a bull shark repellent study here in addition to waiting tables. Everybody has a story.
If you read the special section on the Conch Republic below before February 28, read it again now for late-breaking news.
February 28, 2007
Our Last Day in Marathon
One last bike ride to breakfast at Stout's. One last sunny afternoon lounging beneath our shady tree on Sombrero Beach, reading, snacking and people-watching. One last $2.50 Happy Hour Margarita on the dock at the Dockside Lounge (well, actually two for me). One last time blowing the conch as the sun set, silhouetting hundreds of masts in Boot Key Harbor. We spent our last day in Marathon doing some of our favorite things in our favorite tropical weather.



The Conch Republic
We have said many times during our visit to the Keys that we feel like we are in a different country. For a brief moment in 1982, it was, somewhat officially, a different country.
The saga began when the US Border Patrol set up a blockade in front of the Last Chance Saloon in Florida City on Highway 1, the only road connecting the Keys to the mainland. The Patrol searched cars entering and leaving the Keys for drugs and illegal aliens, and created massive traffic jams in the process. Keys residents objected to having to prove their citizenship to leave home, and found the traffic jams inconvenient.
Key West Mayor Dennis Wardlow went to Federal Court in Miami to seek and injunction to stop the blockade, and was unsuccessful in stopping it, but very successful in getting publicity for his cause. He declared before television cameras on the courthouse steps that the Keys would seccede the next day at noon.
True to his word, the next day Mayor Wardlow addressed a massive gathering of residents, tourists, and Federal agents on Mallory Square in Key West. He read a proclamation of seccession, declared himself Prime Minister of the newly formed Conch Republic (delineated as the entire area south of the Federal blockade) and symbolically began the Conch Republic's Civil Rebellion by breaking a loaf of stale Cuban bread over the head of a man dressed in a US Navy uniform. (Some accounts of the activity claim that citizens of the Conch Republic dressed in their uniforms of cutoffs and flip flops used loaves of stale bread to assault the Federal Agents in the square, conspicuous by their blue suits, but we believe that these tales are exaggerated. Kent State sudents were shot for less.)
After one minute of rebellion, Prime Minister Wardlow surrendered to the Admiral of the Key West Naval Base and demanded one billion dollars in foreign aid and war relief. He never received any response from the United States to his declaration of secession or request for aid, but the Border Patrol blockade was abruptly terminated.
More recently, the Conch Republic attempted to annex an abandoned span of the old Seven Mile Bridge. In January 2006 fifteen Cuban refugees reached the bridge, getting their feet on solid ground, but they were returned to Cuba by the Border Patrol, who claimed the bridge did not qualify as a free zone under their "wet feet, dry feet policy." (The policy is aliens intercepted at sea -- wet feet -- are returned to their home country, while those who step onto US land -- dry feet -- are allowed to apply for asylum.)
The self-proclaimed secretary general of the Conch Republic, Peter Anderson, seized on this ruling, since it appeared to indicate the US was disavowing the bridge span as part of our country. He and other officials of the faux nation enlisted the Conch Republic Navy -- two fishing boats -- and set out for the disputed territory, where they planted two Conch Republic flags (featuring a conch shell and the motto, "We secceded where others failed"), and claimed the bridge span for the Conch Republic. The ceremony involved the wearing of a ridiculous outfit that looked like a parody of a Revolutionary War uniform complete with a tri-cornered hat, the brandishing of a loaf of Cuban bread, and the blowing of a conch shell horn, as well as a long-winded tongue-in-cheek proclamation. Their efforts were, as always, politely rebuffed by Jeb Bush's spokesperson.
A court later ruled that the bridge was dry feet territory, but by then the refugees had already been returned to Cuba. The court ordered the Coast Guard to aid the Cubans in returning to this country, and we heard on the news February 27 that they had arrived back here, just about a year after their unlawful deportation.