November 11, 2005 Demopolis to Bobby's Fish Camp
96.0 miles -- A Starsong Distance Record
Our goal was to get to Bobby's Fish Camp tonight. At 96 miles, it would be our longest cruising day ever. We planned to get up at 4:30 a.m. and call the Demopolis lock, about three miles downstream, to be sure it was clear, then leave at 5:15, just before dawn. By the time we got out of the lock, we figured we could cruise in daylight, and with no unanticipated delays we would be at Bobby's just before dark.
The plan was foiled from the start when Dick woke to fog at 4:30. He called the lockmaster, who said he had northbound barges and a tow tied up below the lock waiting, but was open until they moved. If the tow wasn't moving, it didn't seem prudent for us to move. And, if it did move, we didn't want to meet it in the fog. So, Dick had a brief conference with our co-cruisers, and we all went back to bed.
At 6:30 we heard another boat's bow thruster, and just as we were getting up to check it out, Jim knocked on the door to suggest we be on our way, too. Fifteen minutes later, we were off the dock and into the fog, which started out wispy, but soon thickened up.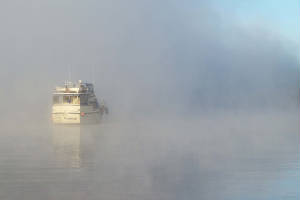 Mamacita in the fog
The captain of Mamacita, the boat whose bow thruster called us to action, radioed back to us that he was stopped in a fog bank and he would like us not to run into him, please. At the time, we could see him, just barely. Later, our radar would show he was just ahead, but we couldn't see anything but white. Using our radar and feeling our way slowly near the shore, where we could barely pick out treetops, we made it safely to the lock in about 40 minutes.
The lock was open and ready for us, and took us down in just 20 minutes, and when we popped out at 7:45, there was no fog on the river. Still, our chances of getting to Bobby's tonight seemed slim.
We plugged along at a steady 9.8 miles per hour, and calculated by the middle of the day that we would get to Bobby's Fish Camp at about half an hour after dark. As we got closer, radio communications with boats who arrived before us established that boats were already rafted two deep off the single dock at Bobby's, but they'd welcome us to join them. We were glad to hear it, because we didn't have any other options. The water was low in the Tombigbee, and the anchorages we checked out along the way looked pretty skinny.
It was dark when we got to Bobby's at 5:40, but we were aided in our efforts to raft up by Clyde from Mamacita talking us in over the radio, and the powerful searchlight of a tow coming upstream lighting our way. Clearly, he saw the big bunch of boats sticking way out off the dock into the river and didn't want his load to tap them.
Bobby's is a bare-bones affair -- a 160 foot long dock with a few power outlets just off the channel. But, the place is legendary -- every Looper stops there, for at least two reasons. First, there isn't another marina for roughly 100 miles in either direction. Second, Bobby's Fish Camp Restaurant serves the best catfish -- and the most catfish -- you'll find anywhere.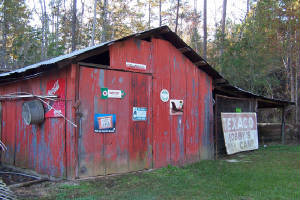 Bobby's Fish Camp
All the crews on the dozen boats on the dock went to dinner at Bobby's Restaurant. The menu is pretty limited -- fried catfish fillets, fried whole catfish, fried shrimp, or burgers, with hush puppies, cole slaw and fries on the side. The food is served family style, in extravagant quantities. Six of the people at our table of eight ordered catfish fillets, and our server brought them out in two 9x11 cake pans heaped high. Each of us could have eaten at least a half dozen fillets and still had fish left over.
We took home a bakery pie box overflowing with catfish fillets, enough for another dinner of generous portions for our crusing group of six. We wondered what the portions would be like if we had ordered the "all-you-can-eat" fish dinner.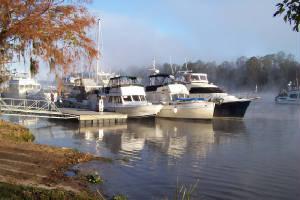 Bobby's Fish Camp dock
November 12, 2005 Bobby's Fish Camp to Tensas River anchorage
81.6 miles
Our last lock of the Loop -- 154 locks, 160 lockages total
Because everyone on the dock was blocking someone else or connected to someone else, we all had to leave together. We were actually happy that the fog was heavy again this morning, because it relieved us from having to leave at 6:30, when the hardcore cruisers and the sailboat wanted to leave.
We all started sorting ourselves out and leaving the dock at 7:40, just as the fog was beginning to show signs of thinning. We heard a tow calling to the lockmaster just as the first of our dozen boats was entering the lock, and were thankful for the eager beaver boaters that got us out a bit earlier than we would have chosen to forge into the fog. Once the tows and barges started in the locks, there's no telling how long we would have to wait our turn to get through.
The Coffeeville Lock was our last lock of the Loop, bringing our grand lock total to 154, and our lockages to 160, since we did some twice.
We cruised a most twisty section of the Tombigbee River today. There were lots of sandy beaches along each shore, and often in turns we would find a high bank on the outside and a gently sloping sandy shore on the inside of the turn. We could tell that the river was hard at work carving out the land and changing its course. Our electronic chart plotter shows the navigation chart for the area we are traveling on its screen, and places a little red boat icon on the chart to show our position. Several times, the plotter showed our boat traveling over the land, because, we think, the course of the river has changed since last it was plotted for the charts.
We passed over a dozen tows, many of them in close quarters maneuvering their loads through snaking turns. We could hear lots of radio communication between the tow captains timing their passage to avoid meeting in hairpin turns. The captains also let us know the names and locations of tows downriver to help us avoid surprises, and to let us hail them by name for passing instructions before we were close enough to actually read the name on the tow (by which time it could be too late).
We arrived at our anchorage in the Tensas River at 4:45, just as the sun was setting in a fuschia blaze that tinted the river ripples a delicate pink. Later, the moon set sparks in the river ripples, while the stars shone bright in the clear night sky.
November 13, 2005 Tensas River to Fairhope, AL (Eastern Shore Marina)
54.7 miles
We hauled anchor in the warm honey light of the morning, and eased out of our Tensas River anchorage into the tidal waters of the Mobile River. The place where water met the shore became less and less clear. Marsh grasses grew in abundance. Forests of knobby kneed cypress trees grew in the shallows. Palmettos spread their spiky green fans over the water's edge. Rafts of driftwood were piled thick against the shore.
We breathed the smell of the salty swamp that we remember so well from the South Carolina low country.
As we got closer to Mobile Bay, we started to see signs of the hurricane's fury -- dumpsters floated from afar, then left askew in pine and palmetto woods; mangled dock sections mingled with the driftwood along the shore; broken pieces of anything that could float tossed like so much confetti in Katrina's path, then landing hard aground as the storm surge receded.
We turned a corner from what seemed like the middle of nowhere, and found we were somewhere -- with a big bridge and a power plant and petroleum tanks looming ahead of us.
The port of Mobile was a bustling place. For several miles we passed grain elevators, big piles of sand and stone, and endless rows of corrugated metal buildings (which, amazingly, showed no signs of Katrina's passing). We watched a huge pipe load coal into a tanker hold, while a worker in a mask stood watch in a cloud of coal dust. A ship from Nassau had all its decks cantilevered up to open its holds for loading or unloading by a couple five or six story cranes next to it on the wharf. There were ships from Rotterdam and Singapore and other far away lands.
A mangled oil drilling rig of immense proportions was parked in the Alabama Shipyard awaiting repair.
There was no place for pleasure craft like ours to stop near downtown Mobile. So, we just kept going into Mobile Bay.
As the river broadened out into the Bay, we saw beach birds awaiting our arrival -- about a hundred black skimmers lined up all pointing the same direction on the shore with laughing gulls in their winter plumage and a few terns thrown in. We saw our first brown pelicans since this past spring. There were a flock of white pelicans near the brown ones, but they weren't mixing with each other at all -- a case of pelican segregation.
Best of all, just minutes after we entered Mobile Bay, we were greeted by dolphins, and plenty of them. One even surfed our side wake for a while. Our hearts leaped as they leaped. We are looking forward to resuming our daily dolphin sightings, now that we are back in their home waters.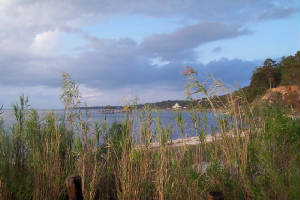 It has been a long time since we were in open waters, and Mobile Bay can get treacherous in bad weather. It is a wide expanse of water, but is only about nine feet deep, so waves can kick up quickly. We had a calm day for our crossing, but as we neared the marina and saw the raw edges of tall red cliffs eaten away by the storm-tossed Bay, we had an inkling of the danger of mixing winds with these waters.
We were docked at Eastern Shore Marina before 2 p.m. After our time on the rivers, it felt like a tropical paradise. We had an expansive view of a little beach and the big bay from our dock. Starsong had a front row berth for a spectacular sunset, and after dark, we could see the lights of Mobile shining across the bay.
We have missed the ocean. We are glad to be back to water that feeds our soul in a way that river water never has, and probably never will.