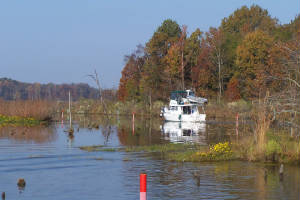 Leaving Aberdeen
November 7, 2005 Aberdeen, MS to Marina Cove Marina in Carrollton, AL
53.6 miles
After spending yet another sunny day on the water, enjoying light breezes and temperatures in the 80s, we were feeling like pretty pampered cruisers -- until we got to Marina Cove. The docks were looking pretty peaked, as were a bunch of the boats tied up there. The dockmaster didn't bother to come down and help us find our slips or tie up. When we went up to his office to register and check out the marina "amenities," we found that the dockmaster lives in a little room in back of the office with a bed and a shelf unit holding lots of canned food. His two cats have eyes that are being eaten away by some untreated disease, and they look unloved.
The dockmaster moonlights as a policeman. His patrol car is parked in back of the marina office, pointing out for a fast departure, should his services be needed. Maybe that's why he doesn't come to the docks -- he doesn't want to get too far from that car, in case duty calls.
A quick inspection of the rest rooms and showers indicated that he doesn't spend much time in cleaning or maintaining those areas either. He told us the marina loaner car was in Arkansas, but we could borrow his car if it was an emergency. We don't think he meant we could borrow the police car, but since we didn't have an emergency, we never knew for sure.
November 8, 2005 Marina Cove Marina to Sumter Landing Recreation Area Anchorage
37.5 miles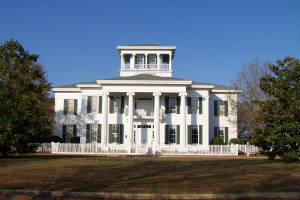 Tom Beville Visitor Center
We began the day with a walk to the Tom Beville Visitor Center, located just a mile up the road from Marina Cove Marina. The Visitor Center is housed in a Greek Revival plantation house, built in 1985 to look a though it was built in 1835. Several nearby homes built before the War of Northern Aggression and still standing today served as prototypes and inspiration for the Visitor Center design, and their oil portraits adorn its entry hall.
Exhibits inside the Visitor Center highlight the geology, ecology, and commercial history of the Tennessee Tombigbee Waterway and the rivers it connects. Oh, and there's a big exhibit highlighting the glorious legislative contributions of Congressman Tom Beville, who got lots of Federal money channeled to this area (including the money for this elaborate Visitor Center, no doubt).
The video and exhibits at the Visitor Center went to great lengths to highlight all the positive economic impacts of the Tenn-Tom on river commerce, and its projected role in promoting development of towns along its course. Twenty years after the Tenn-Tom's completion, using cell phone coverage and internet accessibility as our measures of development, our assessment is that the Tenn-Tom is falling a wee bit short of objective.
In a brochure entitled "The Tennessee-Tombigbee Waterway: Twenty Years of Economic Progress -- And Still Counting," we read "Most all large pleasure boats on seasonable trips between the Upper Midwest and the Gulf Coast, or those on extended cruises, use the Tenn-Tom instead of the longer and more hazardous route of the Mississippi River. These transient boaters have done more to foster marina development and modernization of existing yacht basins in the South than anything else . . . these boaters contribute about $5 million in additional spending in the local communities along the Tenn-Tom . . . boaters are finding that the Tenn-Tom corridor has many of the amenities found in Florida and along the Gulf Coast . . . "
We are wondering where all these marinas with amenities are located. How did we miss them? And how can boaters spend $5 million in local communities when there are no local communities near any of the marinas and no loaner cars to drive to civilization?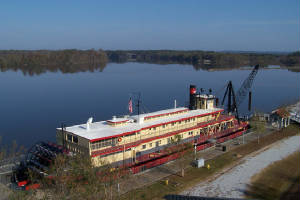 The Montgomery
The Montgomery, one of the last stern-wheeled steam-powered snag boats to work the rivers, lies in dry dock next to the Visitor Center. Built for the Army Corps of Engineers in Charleston, South Carolina, in 1926, the Montgomery cleared fallen trees and other debris from southern rivers until 1982.
We were able to explore her on our own. Massive boilers, first fueled by coal, then fuel oil, dominated her engine room. Big as they were, they only generated slightly more horsepower than Starsong's twin diesels. Our crew quarters are far more cushy than even the Captain's quarters on the Montgomery, but her galley was cavernous compared to ours. Clearly, feeding the crew was a high priority in allocation of space and technology on this craft. The pilot house was a spartan affair -- a six hour shift there would be quite taxing, we thought. The captain could not control the engine speed and gear himself, but had to signal to a crewman in the engine room below, who made the necessary adjustments.
Not long after we left the marina, we rounded a curve in the Tenn-Tom and came upon a modern snag boat nestled against the shore, its huge crane arm extending a six foot claw to drop a driftwood tree safely above the waterline.
We arrived at Sumter Landing Recreation Area a little after 3 p.m., and found three boats already anchored there. We snuggled into the anchorage and went ashore to explore the park, crunching over fallen oak leaves and acorns as we walked. Dick and Ellie walked up the road about a mile in search of a spot high enough to get cell phone reception. Ellie was eager for news of her newborn great granddaughter. How frustrating to be unable to communicate with loved ones during such an important life event.
Dick and Ellie returned from their walk successful in their quest for news from the wider world. I returned unsuccessful in finding any new birds for the trip. No matter. It was yet another warm clear blue sky day in a spot of great natural beauty. We were among friends. Life afloat was grand.
November 9, 2005 Sumter Rec. Area to Demopolis, AL
53.8 miles
As we cruise further South, we are losing the colors of fall in the trees. Instead, the southern trees are are decked with long grey beards of Spanish moss, and balls of mistletoe. Islands of purple hyacinth float in the calm waters, and a brilliant yellow flower grows along the marshy shores.
The land is mostly flat, so when we turned a curve in the river and saw tall white cliffs towering ahead, they seemed particularly impressive. At times like this, we wish we had more geology education. We don't know what the cliffs are made of or why they are here, but the fact that they still exist in their natural state, when there are places along the river sorting and shipping rock and sand leads us to believe that they must not be made of anything commercially valuable.
Another striking sight along the way was the "Crossroads of America Port and Industrial Park." With a name like that, you expect something pretty grand. The only signs of port or industrial activity we saw there were two rusty mooring cells with a rusty corrugated metal breakwall between them. Half the wall had collapsed from the weight of sand bank erosion behind it. We scanned the shore beyond the breakwall for industry, but came up empty -- not even piles of sand. Chalk it up to an unfulfilled promise of economic development from the Tenn-Tom.
We arrived at Demopolis a bit after 1:30, but we sat with an ever increasing number of pleasure boats in a holding pattern out in the river for over an hour, as tows went in and out around us fueling up and changing crews, and the dockmaster worked to find space for all the pleasure boats despite a shortage of slips.
We ended up with Geminellie tied to a face dock, Starsong rafted to Geminellie, and Main Course rafted to us. The marina did have enough power outlets for us all, so we and Main Course stretched our cords across Geminellie's deck, and all hooked up.
Demopolis was founded in 1817 by officers of Napoleon's Army with dreams of establishing a grape and olive colony, but with no practical knowledge of how to cultivate either. Where they failed dismally, cotton growers later prospered. Demopolis is now the most thriving metropolis along the Tenn-Tom, as far as we can tell.
Relishing a return to civilization, we all decided to go out to dinner at the marina's New Orleans Restaurant. Our server informed us that tonight's special was All You Can Eat Bald Shrimp for $14.95. Bald Shrimp? Does this mean they are peeled? Just as we were about to ask, we got it -- "bald" is what Yankees hear when Alabamans say "boiled ".
The shrimp arrived, perfectly spiced with Bay Seasoning and heaped high on a massive serving tray that served as my plate. It may have been all that a 300 pound bubba could eat, but it was way more than I could handle. We took considerably more than a pound of left-over shrimp back to the boat.
We stayed an extra day in Demopolis to enjoy the wi-fi services of the Library, do laundry, and provision up. We lunched at the only place in town open for lunch, the historic Demopolis Hotel. The Alabama Cattleman's Association was formed at this hotel in 1944, and is now the largest Cattleman's Association in the country, a bronze plaque beside the front door informed us. We saw no cattlemen dining while we were there, only ladies who lunch.